EVENTS
BBread & Circus 10-Year Anniversary Party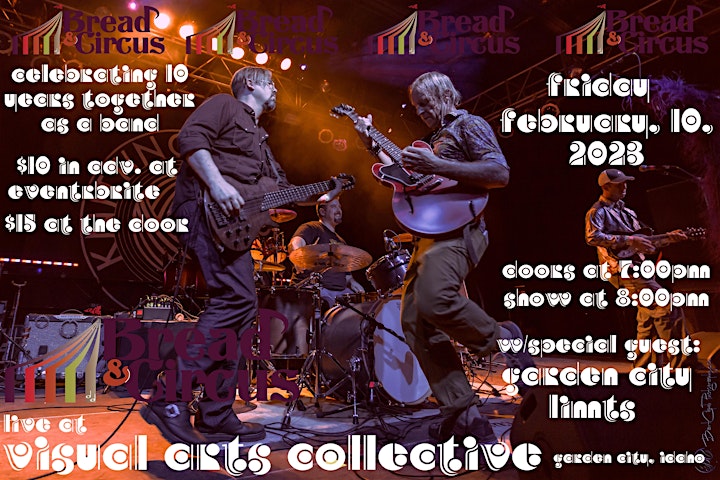 Bread & Circus 10-Year Anniversary Party
with guests
Garden City Limits
Doors at 7 pm – Show 8 pm
$10 in advance – $15 at the door.
21+ VALID ID REQUIRED
——————————————
That internal sentiment of producing your art with pride and commitment. Reaching for and
achieving something, anything of self-perceived substance. And how under the most
challenging and opportunistic of circumstances, that thing you did just may be viewed a
considerable accomplishment. Something to look back on with fondness.
We can dig it. We trust some of you know the feeling too.
Bread & Circus have embraced this absurd and delightful journey. Through our own distinctive viewpoints, tolerance levels and overall collective experience, we have grown to realize that nothing worthwhile is easy and there is no such thing as social convenience as a band.
Particularly when shit hits the fan. Which it can.
In our case, listening, learning and growing together as band mates, friends and brothers, we
have tried to consistently focus on moving the four-piece rock and roll band thing forward for
ten years on now. So we have grown stronger in our involvement and endeavor as musicians
and friends. We are so fortunate.
Bread & Circus take no gig for granted. We are mindful of what a rare treat and enriching ride it has been so far making music together. We also relish in the many contributions our friends
and family have made in our journey both musically and otherwise. We are truly lucky people
to share in this experience and we thank you.
The support for our band, the friendships, new and old, that we enjoy through our music, and
the smiles we see from the stage have inspired us in too many ways to list here. So we choose
to celebrate by throwing down a party for everyone.
We want to thank our friends from the bottom of it by hosting a celebratory musical soiree at Visual Arts Collective in Garden City, Idaho on Friday, February 10, 2023.
Bread & Circus cordially invite you to come share in our groove.
We hope you will make plans to join us!
Formed in February 2013 at an open mic at Pengilly's Saloon in Boise, Idaho.
We currently have two records out in the world:
Fortune Favors The Bold, 2014 and Titanic Love Affair, 2018.
Our third album will be recorded in 2023.
About the band:
Bread & Circus play exploratory, dynamic, melodically based, catchy music that is easy to wrap your head around.
Our sound is our sound.
No one sounds like Bread & Circus and we like that.
We play northwestern boogie rock & soul music without a net.
FAQs
What's the refund policy?
Tickets must be refunded 24 hours before the date of the show.
FAQs
Are there ID or minimum age requirements to enter the event?
21+ VALID ID REQUIRED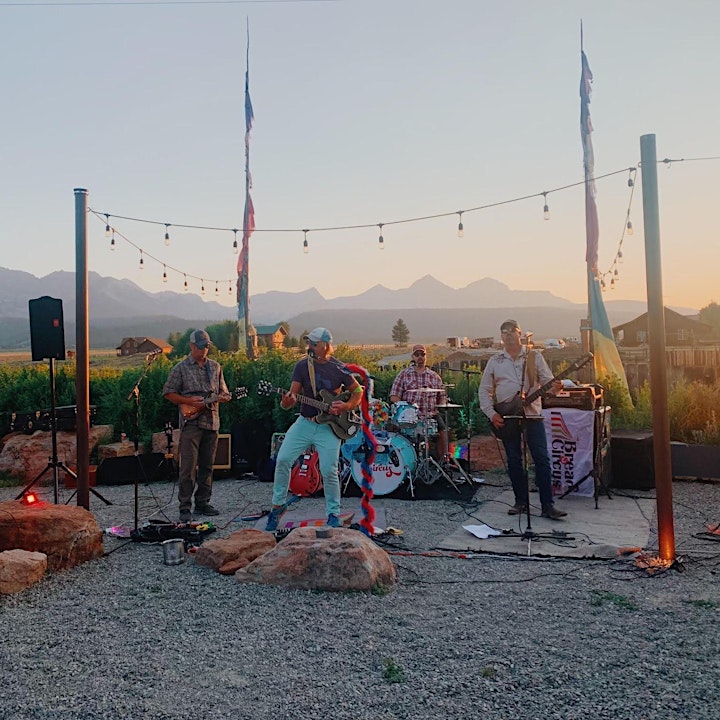 ---
Event Details